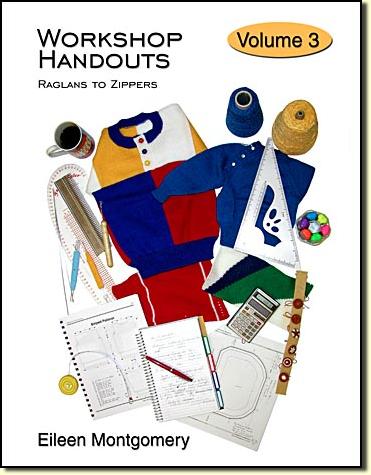 These are three compilations of class notes that I have used many times when teaching over the years. I hope these books will be helpful to all machine knitters by explaining many of the techniques that are useful in knitting and finishing their knits.

Volume 3 has 12 topics with lots of information over 52 pages with 105 pictures. The topics included are:

1. Raglans: 14 decreases, 6 increases, 2 eyelet seams

2. Ribber Fabrics: 10 types including tucks, slips, FNR

3. Ribbing Accents: 9 interesting ribbing ideas

4. Saddle Shoulders

5. Set-in Sleeves: how to draft your own, methods of knitting

6. Shaping Formula (Magic Formula)

7. Shaping Necklines: while patterning and two sides at once

8. Single Motifs

9. Stripes: including how to correctly change colours

10. V-necklines: how to knit, neckbands and collars

11. Yarn Buttons: 11 types to match any outfit

12. Zippers: 14 methods of attaching zippers
**Please see Hints - Zipper for a correction


$22.95 includes shipping within North America


In Workshop Handouts Volume 3, I cover Yarn Buttons. Included were "Creative Buttons". I've had numerous people ask where these buttons could be purchased but hadn't seen them in so long that I was afraid they were no longer available. But I was wrong, they are being made by LoRan and are available where Dritz or Prym products are, like Joann and Hancock Fabrics and Fabricland. Knitwear with buttons is everywhere so you might want to get some Creative Buttons to match your knitting.